In recent years, Insta Reels has become an incredibly popular feature for creating short and engaging videos. With the power of artificial intelligence (AI), content creators can take their Insta Reels to the next level by incorporating stunning visual effects, captivating animations, and seamless editing. In this article, we will explore the ten best AI tools that can help you create engaging Insta Reels that leave a lasting impact on your audience.
10 best AI tools to create Insta reels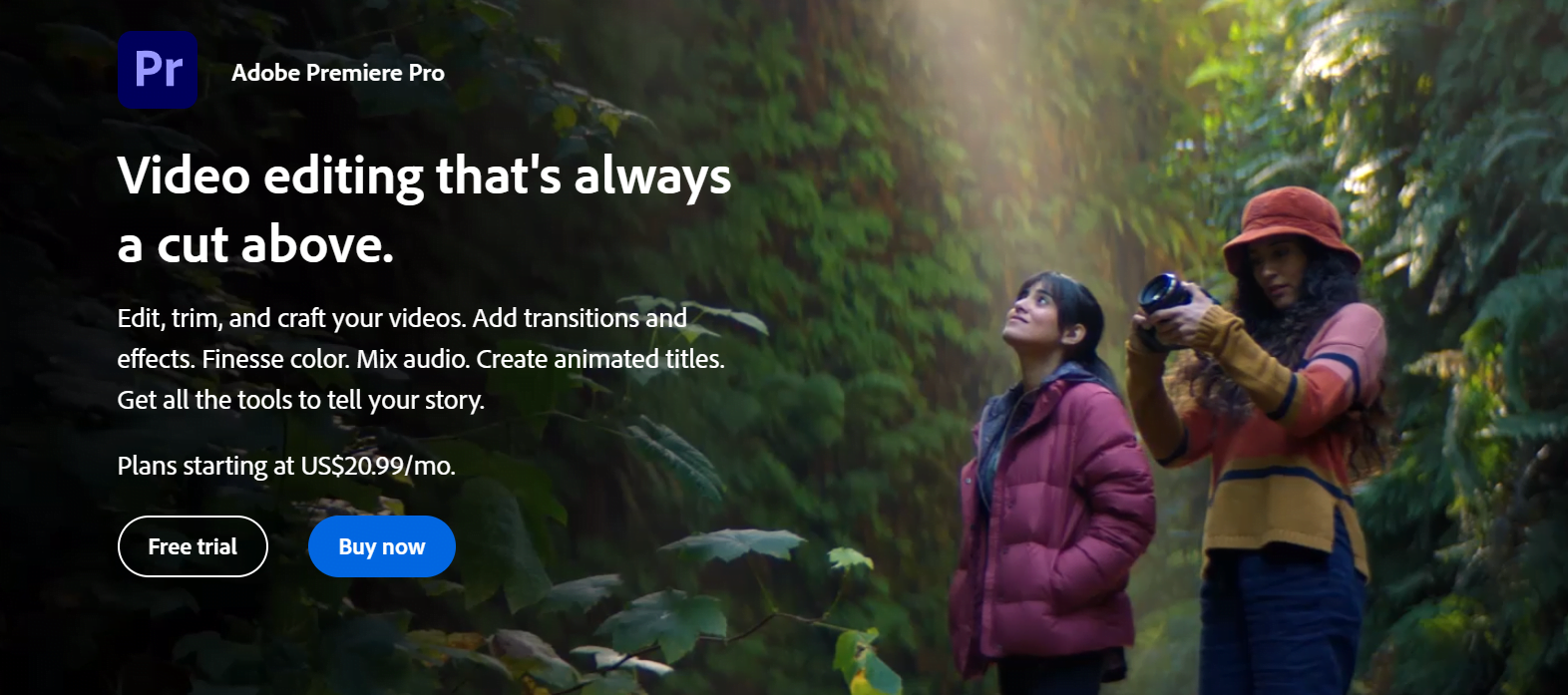 A professional video editing program called Adobe Premiere Pro makes use of AI technology to improve the editing procedure. Creators of content can create Instagram Reels that are visually appealing because of Premiere Pro's user-friendly interface and sophisticated functionality. It offers AI-powered tools like Auto Reframe, which automatically resizes and adjusts your video for different platforms, making it ideal for optimizing your Reels for Instagram.
Multi-track editing, keyframe animation, and color correction are examples of sophisticated video editing tools.

Your video is automatically reframed by AI-powered Auto Reframe to fit several platforms, including Insta Reels.

Precise audio editing tools for enhancing sound quality and adding effects.

the improved process through seamless connectivity with other Adobe Creative Cloud tools.
The process of making beautiful Instagram Reels is made simpler by the AI-powered video creation tool InVideo. It makes it simple to make entertaining films because it offers a large variety of templates, modifiable effects, and a huge media collection. InVideo's AI capabilities also enable automated captioning, ensuring your Reels are accessible to a broader audience.
A large collection of pre-designed templates and effects for producing Instagram Reels with outstanding visuals.

AI-powered automated captioning for improved accessibility and engagement.

capabilities for collaboration that let several people work on the same project at once.

Real-time preview and instant video rendering for efficient editing and production.
Animoto is another popular AI tool that helps you create professional-looking Instagram Reels without any technical expertise. It includes a large selection of editable layouts, effects, and animations that may be tailored to your preferences. Animoto's AI-driven features analyze your footage and intelligently select the best moments to create captivating Reels effortlessly.
User-friendly interface with drag-and-drop functionality for easy video creation.

Intelligent video analysis that selects the best moments from your footage for creating engaging Reels.

Extensive collection of templates, animations, and customizable effects to personalize your videos.

Integration of Reels enables easy sharing on well-known social media sites like Instagram.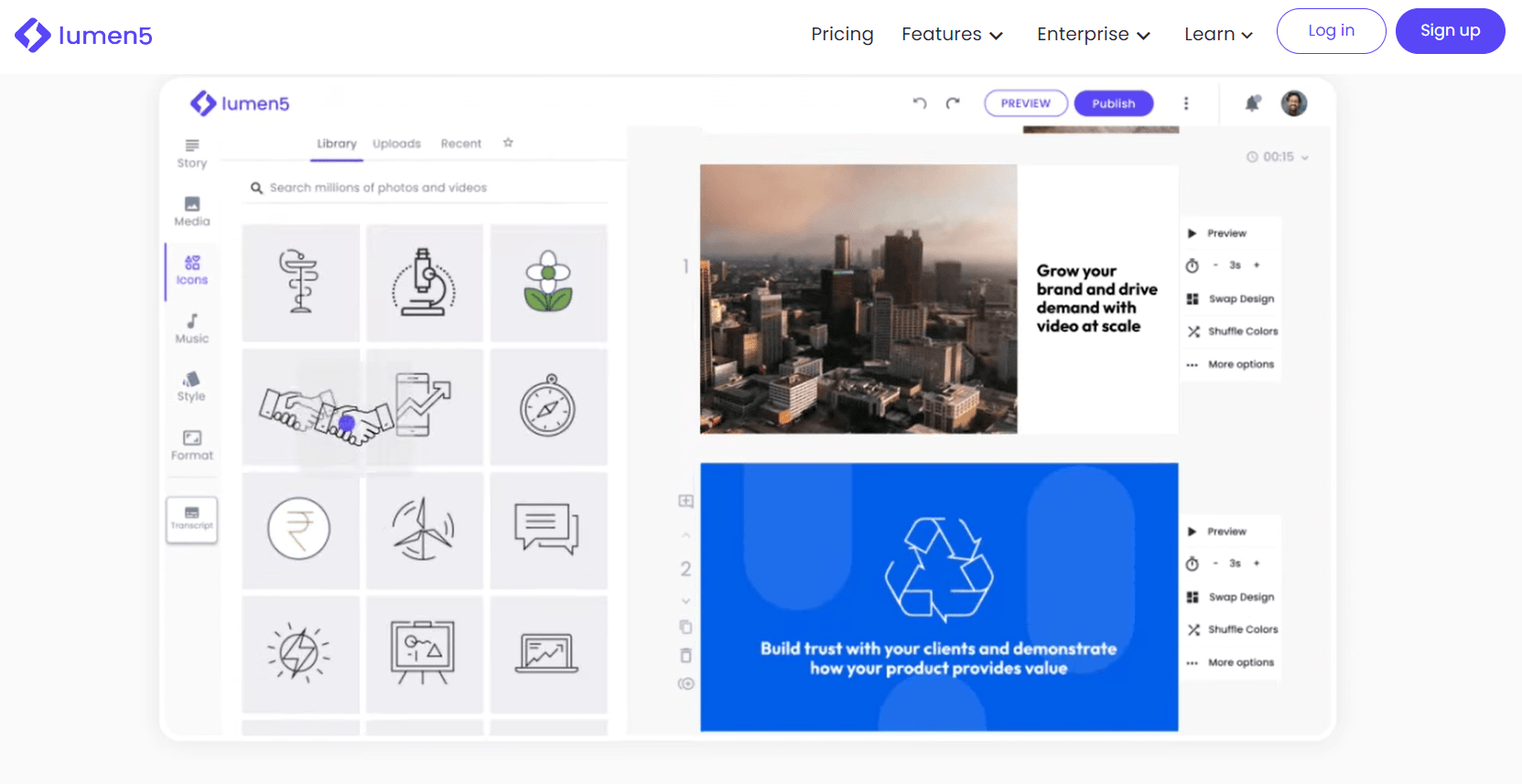 An innovative AI-powered technology called Lumen5 turns text into interesting video material. Lumen5's AI algorithms analyze your script or blog post after you simply submit it, creating visually amazing Insta Reels. It automatically selects relevant images, suggests animations, and adds background music, saving you time and effort in the creation process.
AI-powered text-to-video conversion, transforming your scripts or blog posts into captivating Insta Reels.

Automatic selection of relevant images and suggestions for animations to enhance visual storytelling.

Customizable video styles, fonts, and color palettes to match your brand's identity.

Ability to add background music and adjust the pacing of the video to create engaging and dynamic Reels.
Canva, known for its graphic design capabilities, also offers a user-friendly video editing feature. With Canvas AI-powered video editor, you can create eye-catching Insta Reels using their extensive library of templates, stock footage, and animated elements. Users of all skill levels may utilize Canva thanks to its user-friendly drag-and-drop interface.
A vast library of customizable templates and stock footage for creating visually appealing Instagram Reels.

Drag-and-drop interface with intuitive editing tools for effortless video creation.

Background removal and object detection is driven by AI for smooth graphics and animation integration.

Teams may create and edit Reels together thanks to collaboration tools. 
With the use of AI technology, the well-known photo and video editing tool VSCO can improve your Insta Reels. With VSCO, you can apply AI filters, adjust colors, and enhance the overall visual aesthetics of your videos. With its robust editing features, you can produce professional, captivating Reels that stand out from the competition.
AI-powered filters and editing tools for enhancing the visual aesthetics of your Insta Reels.

Preset video editing options for quick and easy adjustments to color, exposure, and tone.

Creative video effects, such as glitch, grain, and cinematic overlays, add a unique touch to your Reels.

In-app community and sharing features for inspiration and seamless sharing of Reels on social media.
The development of Instagram Reels is made easier by the AI-driven video editing program Magisto. It makes it simple to make attractive films by providing a variety of editing options and template choices. Magisto's AI algorithms analyze your footage and intelligently select the best moments, add effects, and apply music, resulting in professional-looking Reels.
AI-powered video analysis that selects the best moments and creates engaging Reels with effects and music.

Customizable editing styles and templates to match your desired visual theme.

Easy-to-use trimming, merging, and editing tools for effortless video creation.

Cloud-based storage and sharing options for accessing and sharing your Reels across multiple devices.
FilmoraGo is a versatile video editing app that incorporates AI features to enhance your Insta Reels. With FilmoraGo, you can easily trim and merge clips, add text and stickers, apply filters, and utilize other advanced editing options. Its AI technology aids in automatically adjusting video speed, stabilizing footage, and optimizing your Reels for Instagram.
Advanced video editing features, including timeline editing, split-screen, and picture-in-picture effects.

AI-powered video stabilization for smooth and professional-looking Reels.

Voiceover recording capabilities for adding narration or background commentary.

Easy sharing options directly to Instagram and other social media platforms.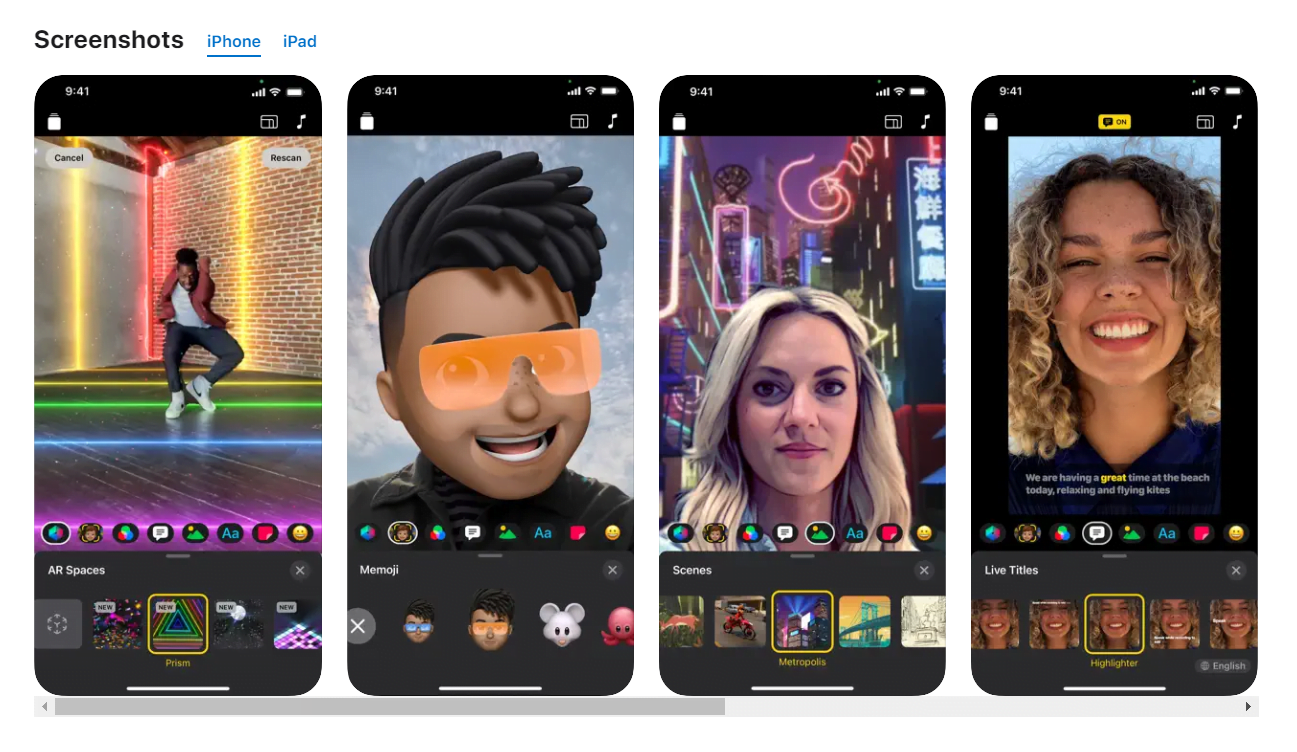 Clips, developed by Apple, is a user-friendly video editing app designed for creating social media content, including Instagram Reels. It utilizes AI algorithms to generate live captions as you speak, allowing you to create engaging Reels with ease. Clips also offer fun effects, animated stickers, and soundtracks to make your videos more captivating.
Live captions are generated by AI algorithms as you speak, providing accessibility and engaging storytelling.

Fun and creative effects, animated stickers, and emojis for adding personality to your Insta Reels.

Smart suggestions for adding relevant graphics, music, and transitions to enhance your videos.

Easy trimming, merging, and editing tools for seamless video creation and sharing.
Ripl is a mobile app that leverages AI technology to simplify the creation of Insta Reels. With Ripl, you can select from various templates, add text and graphics, and customize the appearance of your Reels. Its AI features enable automated video resizing, making it effortless to adapt your Reels to different social media platforms.
User-friendly interface with customizable templates and graphics for creating visually appealing Reels.

Automatic video resizing allows you to easily adjust your Reels to various social media networks.

Built-in scheduling feature for planning and automating the posting of your Insta Reels.

Real-time analytics and insights to monitor your Reels' performance and make informed choices.
Conclusion
Creating engaging Insta Reels has never been easier, thanks to the advancements in AI technology. The ten AI tools mentioned in this article, such as Adobe Premiere Pro, InVideo, Animoto, Lumen5, Canva, VSCO, Magisto, FilmoraGo, Clips, and Ripl, offer a range of features and capabilities to help you create stunning and captivating Insta Reels. Experiment with these tools, unleash your creativity and watch your Instagram Reels gain the attention they deserve.